Well -built. Battery-efficient. And packed with attractive features.
These are the qualities you are looking for in your trolling motor. Right?
Our Top Pick
Minn Kota Endura C2 12V
The Best Trolling Motor on the Market
Built ruggedly, energy efficient and surprisingly quite while running. 7-8 hours backup and has both forward+reverse speed. Among all the trolling motors below, this is the best one overall.
Rejoice! You have to come to the right place.
In this post, I will not only show you the best trolling motors with your desired features but also answer some of the most important questions about trolling motors.
In addition, I will also hand out a buying guide so that you can make an informed decision on your own.
Without further ado, let's get the show on the road.
What is a Trolling Motor?
It's a boat motor which runs on battery and can be mounted on either bow or stern.
The motor itself is kept in a watertight chamber which is then immersed in water to prevent heat issues.
A handle is incorporated into the unit to help you steer the boat. The speed control is usually located on the handle, with which you can dictate the pace of the vessel.
Trolling motors that are fueled by gasoline aren't as efficient as the electric ones and make a lot of noise. So be very aware of that.
What are the Best Trolling Motor in 2022?
01. MinnKota Endura C2 30 Freshwater Transom Mounted Trolling Motor
The first trolling motor was developed by O.G. Schmidt in 1934. Later, he named the burgeoning company after the place he called home; Minnesota-North Dakota border.
Since then, Minn Kota remained a faithful friend of anglers producing quality trolling motors consistently.
The 6-inch telescoping handle makes maneuvering so easy that you can turn the boat on a dime.
Moreover, it has five forward speeds and three reverse speeds allowing you to control the tempo. If you run the watercraft at maximum speed, it will go about 3.5 miles per hour.
I also like the composite shaft, it's built ruggedly and can withstand years of abuse.
Moreover, it's 30 inches long, which is just the right size for a kayak or a small fishing boat. The unit features a 12-volt power system meaning a 12-volt deep cycle battery will be required to run this motor.
It's pretty energy-efficient and can go on for about 7-8 hours before the battery runs out. The trolling motor has a thrust level of 30 lbs. That means it can propel a boat weighing 700 lbs including the maximum capacity.
It's surprising how quietly this thing operates in the water. That's a good thing as there's no chance of the fish getting spooked.
Regarding installation, the transom mount fasteners and the depth adjustment ring make the whole process a breeze. Besides, the lever lock bracket ensures a firm mount and won't come off suddenly.
The Minn Kota Endura C2 trolling motor has excellent construction. You can surely expect years of faithful service from this thing.
However, I'd recommend against using the device in rough waters as this one should be exclusively used in calm water. Employing it against strong currents can affect the motor parts badly.
This one is best overall considering price, quality and performance.
Highlighted Features:
The 6-inch telescoping handle offers maneuverability
The shaft is 30 inches long
3 reverse, 5 Forward speed settings
Energy-efficient
30 lbs thrust level
Super quiet operation
02. Minn Kota Endura Max in Shaft Thrust Trans Mount Trolling Motor
Endure max mount trolling motor is a bit expensive, but its performance and amazing features more than compensate for its higher price.
In my opinion, it's not only better than the previous versions but also one of the best electric trolling motors out there. What makes this stand out is the digital maximizer. It conserves the battery and helps the motor excel in battery efficiency.
In fact, you can get more than 12 hours of trolling on a fully charged 12 volts battery. Moreover, there's also a battery life indicator so that you don't get stranded in the middle of the lake.
The variable speed control is really impressive and allows you to adjust the speed according to different conditions.
If needed, it can work at an extremely slow speed or give a quick burst. Trolling at maximum speed can yield up to 3.5 mph.
When it comes to performance, it exceeds expectations. This thing is incredibly powerful and can keep the boat straight even in a strong, gusty wind.
However, being powerful doesn't make it louder. It's quite enough to let you approach the catch in silence.
One thing that fails to impress me is the build quality. It leaves a lot to be desired and certainly needs some improvement.
The plastic transom latch is prone to get torn and may need to be replaced after a couple of months.
Though I won't call the handle ergonomic, it works fine. Does an excellent job of allowing you to guide the boat precisely.
But I would have liked it far better if it could tilt upwards. If the price is okay for you then go for this one rather than the first one.
Highlighted Features:
Features Digital Maximizer technology
Has a12-volt power system
Comes with variable speed control
Maximum speed 3.5mph
03. Newport Vessels NV-Series Thrust Saltwater Electric Trolling Motor
Being founded in 2008, Newport Vessels are a relatively new player in this industry.
Though their motors may not be powerful enough for large vessels, they are ideal for kayaks and small fishing boats.
As a matter of fact, many regard this one as the best trolling motor for kayaks.Unlike my previous recommendations, this one can be really fast. At high speed, it can hit 5-6 miles per hour.
On top of it, its 8-speed options allow you to adjust to different conditions seamlessly.
Keep in mind that there's an inconsistency between the reverse speeds as the 1st one isn't as fast as the 2nd one.The 5-point led battery meter will show you the condition of your battery.
As a result, you can devote 100% attention for fishing without worrying about the juice running out suddenly.
Its battery draining is reasonable and should go a long way on one charge.A lot of plastic has been used to build the motor. No need to get worried as that's a good thing.
Due to being made of high-grade plastic it will be protected from both salt and corrosion. As a result, you can troll on all sorts of water.
As I have stated earlier, this motor is a perfect fit for small vessels due to the low thrust level at 36 lbs.
However, as long as the weight (including boat, people, and gears) is less than 1500lbs, it can provide enough thirst to move the watercraft steadily even in windy conditions.
The 30-inch composite shaft is neither too long nor too short.
It's the ideal length for kayaks. Plus, the unit also features an ergonomically designed 6-inch telescoping handle to help you with steering.
Highlighted Features:
The highest speed can generate 5-6 miles per hour
Features a 6-inch handle
The shaft is 30-inch long
Has a thrust level of 36 pounds
Components are saltwater compatible
Comes with a 5-point battery indicator
04. Intex Trolling Motor for Intex Inflatable Boats
This one is specially designed for Intex inflatable boats. Intex claims in their website that their only goal is to offer high-quality products at an affordable price. So, is this thing affordable?
Certainly. High-quality? Beyond doubt. In fact, it's one of the top rated trolling motors available in the market. Do you get frustrated when the boat gets caught on weeds or algae? Of course, you do.
Fortunately, the Intex motor comes with a weed button which helps you break it loose in no time. Also, the unit incorporates a 6-inch handle which has an excellent tilt mechanism.
Tired of trolling in small lakes and want to go out in the sea?
With this one, you surely can. Its parts are suitable for saltwater use meaning you can fish in both saltwater and freshwater without fearing for the motor parts.
Plus, its stainless steel shaft is 36-inch long and built robustly. When it comes to battery efficiency, this one really shines.
Its 40 lbs thrust pushes through the water well and has enough power to keep the boat straight in rough waters.
Plus, it can produce a lot of speed and cuts through the water super fast. this i=one is suitable for freshwater and saltwater.
A lot of people have complained that after a few months the trolling motor starts having problems.
The most common issue that I came across is that it keeps getting shut off at regular intervals. The worst part is upon contacting the customer service; the customers weren't offered sufficient help.
Highlighted Features:
Amazing battery efficiency
Includes a weed button
40 lbs thrust
Compatible with salt water
Features a battery life indicator
How to Choose the Best Trolling Motor?
The Power System of a Trolling Motor
If you have budget constraints, then go for a 12-volt power system.
It's considerably cheaper than the other ones as it operates off only one 12-volt battery, whereas 24-volt and 36-volt require two and three batteries respectively.
Don't worry; the 12-volt system is sufficiently powerful to run the motor.
However, due to having a single battery, the 12-volt system is less efficient than the other two and gets drained quickly.
So, if you value run time over money, then either of the 24-volt and 36-volt would be the great option for you when buying a trolling motor.
Thrust Level
The best trolling motor with a high level of thrust can make the boat run like a champ.
For every 200 pounds of weight, you need 5 pounds of thrust. So, a boat that weighed 600 lbs would require 15 lbs of thrust.
Now, add the maximum capacity of the boat with its original weight.
And then you will find out how much thrust you need to make the vessel run on water.
How long should the shaft be?
Getting the shaft length size wrong can completely ruin your cruising experience.
That's why it's highly essential that the shaft length is of the correct size.
But how do you get the size right?
A general guide is for a shaft length to be48 – 52 in (122 – 132 cm) for small boats52 – 62 in (132 – 157 cm) for medium sized boats.62 in (157 cm) + for larger boats.
What is the top speed of a trolling motor?
5 mph is the top speed of most trolling motors. It's unlikely that you would want to keep the pace same during the entire period of cruising.
You might want to get the boat move extremely slow or break into a quick burst.
For this reason, electric motors usually feature either an 8-speed system or a variable speed control to allow you to adjust the pace.
How powerful should a trolling motor be?
Thrust is important for trolling motor. It should have about 2 lbs of thrust for every 100 lbs of fully loaded boat. A 30 lbs motor can move a 1500 lbs boat.
The most powerful trolling motors can go up to 100 pound thrust or more.
What is the difference between freshwater and saltwater trolling motors?
Generally speaking, there are two types of trolling motor; saltwater trolling motor and freshwater trolling motor.
Freshwater motors are exclusively for use in lakes or small ponds. If you employ them in seas, it can void the manufacturer' guarantee and cause some severe damage to the motor.
In contrast to freshwater trolling motors, saltwater motors can be operated on both types of water. Saltwater motor parts are usually salt and corrosion resistant and thus can adjust to any kind of water.
Trolling motor vs. outboard motor. What is the difference?
Size is the main difference between trolling motor and outboard motor. Which determines the use of the motors.
Outboard motors are larger and trolling motors are smaller.  Outboard motors are used as the primary source of propulsion.
The best trolling motors are used on smaller boats to move quicker through shallow waters. Trolling motors are much quieter.
Fisherman people use them to move without spooking any fish in the fishing areas. Some has foot pedal, 2 or 3 blade propeller, hand control, remote control, foot control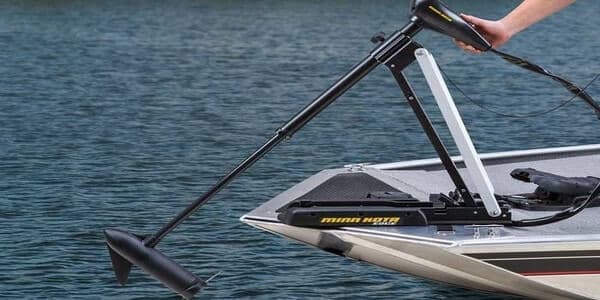 Best Trolling Motors FAQ
1. What is trolling motor thrust?
We all know that electric trolling motors run on battery power.
Now, the amount of battery power required to haul the boat through the water is called electric trolling motor thrust. It's measured by pounds.
2. What is the best quality trolling motor for a kayak? 
To be honest, it's a bit difficult to point to a unit and say "that's the right trolling motor for a kayak."
The best trolling motor for your kayak would vary according to the size and weight of your boating.
However, I'd recommend checking out the Minn Kota Riptide trolling motor units as they are perfect for kayaks.
3. What type of trolling motor battery is used for an electric trolling motor?
If you have decided to go with deep-cycle battery, then you can pick either Lead Acid Wet-Cell or AGM batteries.
Otherwise, you may get a marine battery.
The primary purpose of an electric trolling motor is to act as a non-primary source of propulsion.
5. What is the best speed for trolling?
There are no definite rules regarding trolling speed. You can set the pace according to your needs.
6. Can you use a starting battery for electric trolling motor?
Simply, no. Because it has thermal issues and won't last long.
7. Can you use a freshwater electric trolling motor in saltwater?
I wouldn't recommend that as the majority of the electric trolling motor parts are likely to incur damage.
8. How fast do you troll for kingfish?
The 5-9 knot is the ideal rate for catching kingfish.
9. Bow mount trolling motor or transom mount trolling motor mount? 
As the name states, the bow mount trolling motors are installed on the bow, whereas the transom mounted motors are set up on the stern.
So, which one should you go for?
The answer mainly depends on your boat size.
If it's a small fishing boat or a kayak, then the transom mounted motors should be your go-to choice.
However, if the boat is rather large, then a bow mount motor will be required.
10. How fast will a 55 lb thrust trolling motor go?
The maximum speed of a trolling motor is approximately 5 mph. The level of thrust doesn't affect it.
11. What size battery do I need?
It depends on the motor power. 16 volts is enough for small boats. 24-32 volts is enough for medium and large boats.
MinnKota Endura C2 30 Freshwater Transom Mounted Trolling Motor is the best trolling motor  for the money.
13. How deep should a trolling motor be in the water?
The rule of thumb is 12 inch.
Top Trolling Motors my Final Words
No matter whether you are out baking in the sun or chasing catches, a good electric boat motor will have your back.
Because the Best Trolling Motor ensure that you don't have to resort to rowing ever.
So, choose your company wisely.
I hope my best electric trolling motor tests will be of some help.
So, why are you still here? The fishes are waiting.