The Old Town Predator and Hobie Pro Angler are two kayaks that have caught the attraction of millions of paddlers around the world.
Whether you are a professional or armature paddler, you may have to consider the differences between Old Town Predator vs Hobie Pro Angler.
We have highlighted some of the features you should know about the two kayaks.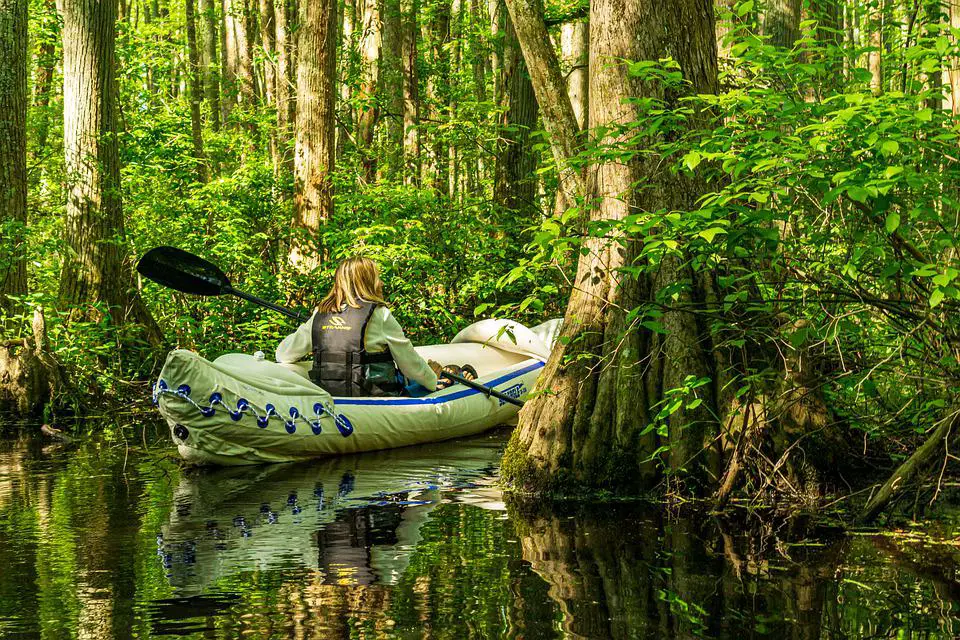 Old Town Predator Pros and Cons
Pros
Good stability.
It has a perfectly adjustable seating system.
A lot of storage places.
Removable mounting plates
Its transducer is already installed
Cons
Water comes in through the scupper holes when loaded to maximum capacity.
It does not have speed.
Heavier than other models
Old Town Predator Overview
Size and Weight
SS 127 has an overall length of 13.2 inches  (400 cm). It has a width of 33.5 inches  (85 cm). This length gives it the ability to track well and move at a good speed. Its width gives it stability. The kayak sits very low in water which some heavy anglers may see as a disadvantage.
Features
Predator 13 is a fishing kayak and it is specifically designed as such. It is featured with all facilities you may be looking out for in a top-of-the-line fishing kayak.
It features the Element  Seating Systems which is a very comfortable seat. This seat is highly adjustable. It makes the angler to seat at a position higher than the deck of the kayak and can be adjusted lower for the angler to make extra thrusts while paddling.
The only disadvantage the seat has is, that it is not made of breathable material and for that reason might not be quick to dry like others. You can create extra standing space by flipping the seat out of the way.
Anglers complain that water comes into Predator 13 through the scupper holes. This may not discourage some anglers since the kayak has a slip-resistant deck that enables the angler to get better footing if he wants to stand and concentrate on catching a trophy fish.
Predator 13 has 6 removable mounting plates which allow you have a customizable experience by making the choice of which kinds of gears you will want to mount on your kayak and where.
With the presence of these interchangeable mounting plates, you do not have the need to drill any hole in the kayak. It is not difficult to install things like rod holders, fish finders, and other things on the mounting plates.
Predator 13 has slide-mount paddle storage as well as molded paddle rest. You quickly and easily store your paddle in these places as soon as you get to the spot you want to fish.
Predator13's big bow gives it a great advantage over most of the other fishing kayaks. The big bow enables anglers to store varieties of gears inside keeping them out of water.
The kayak has the transducer scupper system already installed. This enables you to install your depth or fishfinder without difficulty.
Predator 13 and Hummingbird products are most compatible but, you are free to choose the type of fish finder and sonar equipment you may want to install.
There are two-rod holders behind the seat specifically positioned for trolling. There is also a large capacity tank well in the stern area.
The tank well is very good for storage of coolers, creates, and other gears. There is a bungee cord on this well with which all gears are tightly strapped down and secured.
There is a mod pod in the center console of Predator 13 which can hold a good amount of gears.  The pod has a cover that has many places on which a fish finder display, paddle holder, and other gears can be installed.
Performance
Predator 13 is perfectly stable on the water.  Stability is very necessary for fishing kayaks. The kayak is very comfortable. It has the capacity to accommodate a good amount of gears and any average sizes angler.
It is slowed down a bit by its large body but, it is designed for stability. It is able to efficiently cut through the water and track efficiently in calm water because of its tri-hull design. Some anglers like this kayak because it sits very low in the water.
Hobie Pro Angler 12 Overview
Hobie Pro Angler 12 is a fishing kayak that is known for its versatility, comfort, and easy operation. It is a good choice to make. An improvement has been made to the kayak to boost its efficiency, comfort, and durability.
An improvement is also made to its storage areas. The storage areas are now bigger and easily accessible, making it easy for you to get all you may need at any time.
Hobie Pro Angler 12 is impressively portable. It has all the features big boats have. Every passionate fisherman should have this kayak because; there is no water it cannot conquer. It functions very well in all waters be it clam water like lakes or choppy waters like oceans.
It allows you free movement and standing while you fish. The hull is constructed with roto-molded Polyethylene. This is the reason you can confidently dominate all kinds of water.
FAQS
How fast is a Hobie Pro Angler?
Hobie Pro Angle could be 3 MPH or 4.5 MPH in its speed.
What year did the Hobie Pro Angler come out?
The Hobie Pro Angler 14 was introduced in 2009, and in 2018, the Pro Angler Series of kayaks provided stunning features for the stand-up kayak anglers.
 Old Town Predator vs Hobie Pro Angler: Verdict

Hobie Pro Angler 12 kayak is changing the face of the world of kayaking.  This kayak has an amazing carrying capacity of 500 pounds. This huge carrying capacity makes it possible for you to carry a lot of loads.
True to your expectations, Predator 13 was designed by Old Town to have a big carrying capacity which is enough to accommodate an angler, tons of his fishing tackles,  equipment, sonar, and lots more.
The kayak has a maximum carrying capacity of 425 pounds (192 kg). Expect water to enter the kayak through the scupper holes if you load it to its maximum carrying capacity.