I like fishing with some of the best kayaks on the market. I have used most brands and I can easily tell you why I like or dislike a brand.
Today, I will be talking about the Old Town Predator mx vs Top Water 120.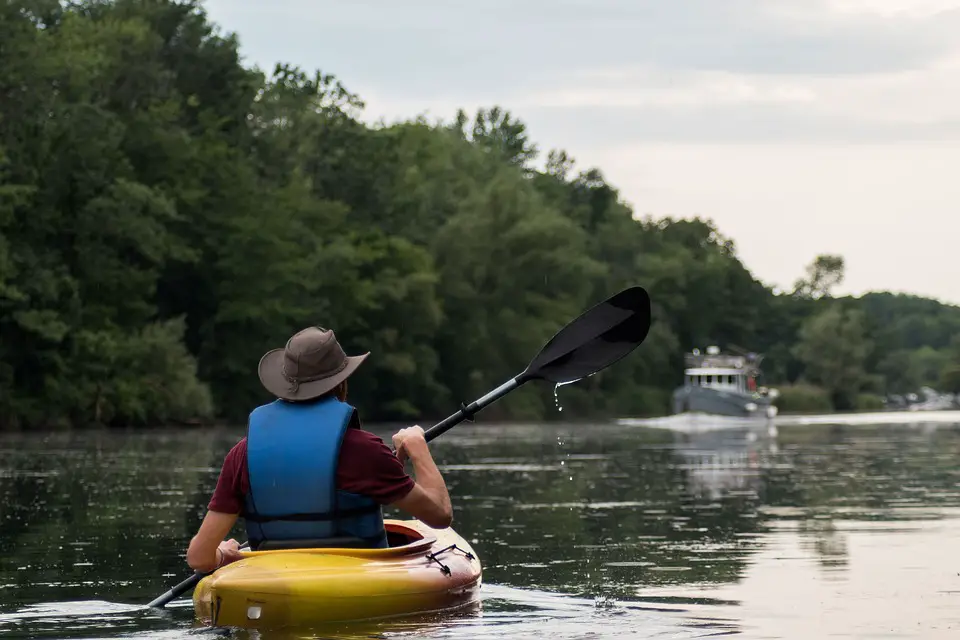 If you have not used any of these products, I will explain to you the reason why many anglers often want to use them for their water activities.
Old Town Predator mx Overview
For fishing, hunting, and other water activities, you need a smaller and more transportable kayak that can get into shallow water without bothering about rudders, pedal systems, or its electrical device.
When I use this boat, I worry about the kayak pounced off by water obstacles  Hence, I present to you a reliable kayak from the kayak mainstay Old town called the Predator mx.
The Predator mx or mixed water is completely engineered or equipped below and above the water line to present the perfect platform for fishing and on-water sporting. The predator mx is succinctly assembled to navigate small lakes and rivers without compromising stability or capacity.
Size and weight :
With a total length of 12″ (3.7m) the predator mx is ideal for a sit-on-top hunting and fishing kayak. Tipping the scales at 82 lbs (37.2kg) the Predator mx is by no means a lightweight boat.
Capacity:
The weight capacity of the Predator mx is 400 lbs (181.4kg),  due to its high weight limit. This kayak is perfect for staying long days on the water and for conveying the day's catch in an ice-filled cooler.
It has a large tank behind it and a front dry hatch where you can store additional gear as you want during trips.
Features:
This kayak has an element seating system, which you can remove and use as a bench chair.
The Predator mx has rod tip holders and rod retainer bungees to keep your fishing gear in order.
It has six removable mounting plates; each of them enables you to install accessories without drilling into your kayak.
It comes with molded paddle rest and a side-mount paddle storage system where all your gear can be intact while you are on the water
Old Town Predator mx Pros and Cons
Pros
It has super comfortable seats.
You can easily customize it to your fishing style.
It paddles well and is fairly fast for its stability. Its movement is calculated (at) 3-4 mph on a lake with moderate paddling.
It has an open deck.
Cons
It does not have a universal transducer mount for finding fish
It is fairly heavy.
It does not perform well in windy conditions.
A standard old town Predator mx is estimated at $1,399.99.
  Top Water 120 Overview
The Top Water 120 kayak is every angler's delight due to its lighter 82 pounds, which enables it for easier movement and storage. The top water 120 is shorter, lighter, simpler, and ready for action.
It is among the least expensive kayak with a price tag of below a thousand dollars I love it. The kayak is designed for short distances and it is the boat to fish in shallow, sheltered water. The top water 120 is firmly packed with amazing features.
Size and weight.
The top water is about 12-foot length, which allows solid tracking. it is short enough to turn easily. For its stability, a 33.5-inch beam is ideal, and the width is distributed in equal measure to all sides enabling it to turn without a rudder. It weighs about 82 pounds.
Comfort.
The top water 120 has a comfortable and breathable element Air tm seat that you can position either in the high or low position.
The provision of an oversized stern tank well coupled with impressive hull capacity gives room for enough space to roam in the boat.
Also, it carries a full array of electronics, batteries, lights, rod holders, camera mounts, and cupholders It provides a stable, comfortable stand-up fishing platform.
Features.
The Top Water 120 is equipped with an ultra-stable double-hull design, which offers unrivaled stability and precision handling in a compact easy to transport size.
It has a universal transducer mounting system, which enables you to mount your favorite fish finder
It boasts of Eva foam deck pads for traction.
It has two flush mount rod holders behind the seat for a gear track on each side of the cockpit and this enables you sit-on-top of the kayak while fishing.
Maneuverability.
Its tunnel hull easily slides through the water cutting a sharp entry into waves. This channeling of water through the tunnels causes the boat to make decent speed without much effort.
The boat maneuvers or paddles straight even in a stiff breeze and moderate current. It is easy to maneuver into small creeks and around boat docks.
Top Water 120 Pros and Cons
Pros
Cons
The seat offers minimal padding.
A bite expensive
My Honest Review: Old Town Predator mx vs Top Water 120
I have used the Top Water 120 for a number of years before I tried the Old Town Predator.  I have this to say about the Top Water 120:
The double hull of this kayak pushes additional volume to the outside of the hull primarily to increase stability. the flat bottom also attests to the stability of this kayak, with it you can get through low water spots with little effort.
It fights the wind and current with a round chine which absorbs the waves by rolling with the impact.
Then, the Old Town Predator didn't disappoint me. Performance:
It is a kayak for sportsmen and it does not disappoint. It is crafted with a unique tri-hull design which offers it primary stability.
When you are padding the Predator mx, you will have better control over the boat because of its support track foot brace system.
It allows for increased maneuverability, which is ideal for navigating small waterways and rocky areas. It is flat, and has a round hull design for primary stability and speed.
FAQs
How much does an Old Town Topwater 120 weighs?
The Old Water Topwater 120 weighs 82 lb.
Where are Old Town kayaks made?
The Old Town kayak is made in Old Town, Maine.
Which Old Town kayak is the most stable?
The Sportsman and Topwater are the most stable Old Town kayaks on the market.