Have you wondered how it feels to paddle Bonafide ss127 vs Nucanoe Frontier 12? The two kayaks offer you some of the best features on the market.
We will begin by talking about each model differently. First, we will highlight the features of Bonafide Ss127, then the Nucanoe Frontier 12.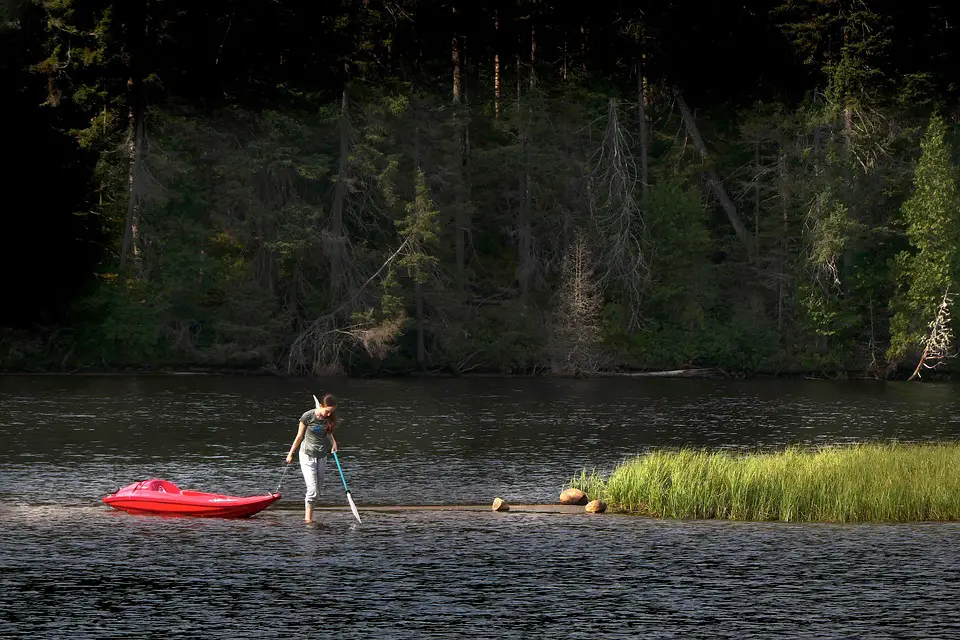 Bonafide ss127
Bonafide SS 127 was designed and built by a kayak fisherman. YakAttack accessories are owned and designed by Luther Cifers. He was a fisherman before he started this company.
His innovation has brought a lot of iconic gadgets and doohickey to paddle and pedal anglers. The formation of rod holders, camera mounts, cup holders, and many other accessories was a product of his experiences on the water.
All that remained was a good paddle fishing kayak to carry all these gadgets.
What Kind of Fishing Kayak is the Bonafide SS127?
The Bonafide SS 127 is a fishing kayak. It is one of the stand-up, sit-on-top kayak models. It is a multi-purposes fishing machine. It has stability and functionality more than speed and open water performance.
With the combination of a super-stable and sporty hull and an uber functional cockpit, the boat became outstanding in its category. The bow hatch, the seat, and the stern well were all designed to serve the needs of the angler.
The boat is user-friendly. If you are shopping for a fishing sit-on-top kayak that is very functional and comfortable, Bonafide SS 127 is the kayak you need.
Key Features of Bonafide SS127
Most unique and functional fishing features on the water are found in Bonafide kayak. This is expected.  Luther Cifers began as a dedicated kayak angler twenty years ago. When he could not lay his hands on the accessories he required, being an engineer he made them himself.
When kayak sports became popular, he had the knowledge of the gear kayak anglers required. His designs were inspired by his experiences. He developed YakAttack full line of smart accessories which became a very important part of kayak sports.
He worked with major kayak producers to outfit their boats with his accessories. To complement his gadgets, Cifers later made up his mind to design the ultimate sit-on-top kayak.
He designated and developed a hull, cockpit layout, and fishing features unique to the Bonafide SS 127, to compete in the emerging stand-up kayak market.
A Paddle Kayak for Stand-up Fishing in Shallow Water
The top side of Bonafide SS 127 was designed to be used for stand-up fishing, to compliment the hull. The paddle deck of the boat is wide and flat.
Two Perch Pads are added to the gunnels. This addition is to enable the angler to stand high and have a better view of the water.
There is a plastic strap and padded area in the bow where you can conveniently keep one of your blades when you stand fishing.
There are ridges from the top of the kayak that corresponds with the ridges on the bow where you can hold your rod horizontally.
There is another paddle holder integrated into the side handle where you can strap your paddle on the kayak.
Nucanoe Frontier 12 Pros & Cons
Frontier kayak is made for serious anglers and hunters. It is the ultimate hybrid kayak. It is designed from the hull up with the intended users in mind.
You are assured to maximize your kayaking experience with Frontier 12 if you are fly fishing in saltwater, bass fishing in a river, or hunting in the marshes. The stability of the boat is ridiculous. Its agility is surprising.
It is not difficult to paddle. It is self-bailing and knows no limits. Whether you are paddling alone or with someone, you will still have enough space. The seats of the boat are polished.
It has holders and accessories everywhere along the 70 inch Freedom Track. The boat can easily make a turn of 360 degrees. You can confidently stand, walk and fish on the boat. Its cast and Blast Deck are 20 inches wide.
Pros
It has comfortable seat.
You can paddle solo or tender
The gear tracks are long.
The deck is spacious.
It can be customized.
Cons
It is not fast on water
It could be a bit expensive
Not attractive
 Size and Weight of Nucanoe Frontier 12
The length of NuCanoe Frontier 12 is 12 inches (365.7 cm). It has a width of 41 inches  (104 cm). The kayak has big space that can conveniently accommodate one or two paddlers.
The large width of the kayak makes it the choice of paddlers that want to buy boats that have enough room for their legs. The kayak has great stability even in choppy waters because of its wide body.
The Frontier 12 kayak has a hull weight of 80 pounds  (36.2 kg). The weight of the kayak is light when compared to other boats of its size. You can conveniently load it on a pickup truck or a car roof.
FAQs
How long is a bonafide SS127?
| | | |
| --- | --- | --- |
| Length | Width | Deck Height |
| 12′ 7"/383.5 CM | 33.75" / 80.725 CM | 15.5" / 39.37 CM |
How stable is NuCanoe?
NuCanoe is one of the most stable.
How wide is NuCanoe Frontier 12?
The kayak is 41″in its width.
Bonafide ss127 vs Nucanoe Frontier 12
NuCanoe Frontier 12 does not look attractive. However, the kayak has a lot of features and performs a lot of functions necessary for fishing on lakes, rivers, and seas.
The ability of NuCanoe Frontier 12 to serve as a solo or tandem kayak makes it the people's choice.
The total carrying capacity of the kayak is 650 pounds  (294 kg). This is the reason it has the ability to easily carry two big size adults.
We picked the Bonafide kayak because it is equipped with uniquely designed foot pegs on aluminum tracks that can last a lifetime. The stern well, cockpit, bow rod holder, electronics, or other accessories are placed on other aluminum gear tracks.
Gears can be secured on pad eyes on the gunwales, by the hatch in the bow, and along the stern well. To avoid snagging your fishing line the gear tracks and pad eyes are recessed.
Finally, what model are you going to select between the two? We will want to know why you picked your model.