Have you considered using Wilderness Systems Aspire 105 vs Pungo 120?  These two kayaks offer you unique features for seamless kayaking.
We have listed the different features of these kayaks to help you make your decision.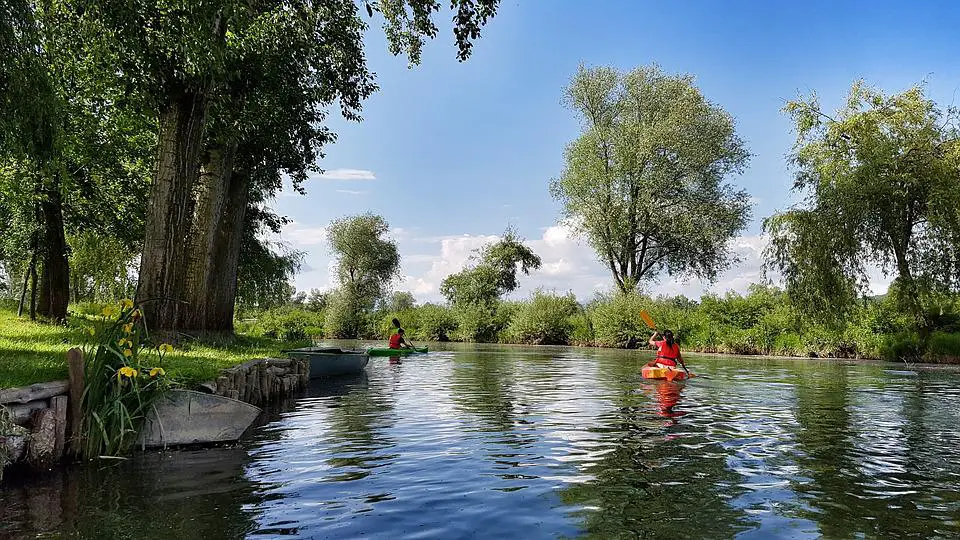 Wilderness Systems Aspire 105
Advantages of the Aspire 105
It is nimble
This boat is quite versatile
It is very stable
Disadvantages of the Aspire 105
It has no drain plug
The hatch levers are easily damaged
This boat is heavier
Size and Weight
This boat is about 320cm long and 74cm wide. It weighs 48 lb and has a deck height of 39. This boat can easily be transported and moved into and outside the water thanks to its sturdy and soft-grip handles.
Capacity
The capacity of this boat is designed to carry about 400 pounds. They mean that it can perfectly carry kayakers of any size and also contain the necessary gear and equipment needed while on water.
For paddlers who need a lightweight craft, the Aspire 105 is not recommended. However, paddlers can opt for the Aspire 100 instead.
Features
From the bow to the stern of this kayak, there are many amazing features that offer the kayakers so much comfort and also precision while tracking. Below are some of these features:
This kayak has a very large opening which allows free movement in and out of the kayak, especially for bigger people.
There are adjustable slide lock foot bracer systems that have ample padding around the knees and thighs. This offers the kayak a very comfortable shoulder prop for transporting.
The seat of this kayak is an ergonomic and highly-acclaimed Phase 3 Airpro model which consists of mesh-covered molded foam ergonomically fitted to the body.
The foam on the Phase 3 Airpro models drains very well when wet. It is also breathable on sticky, and summer paddles.
There are leg raisers in the bottom cushion which provide additional support. Also, the top cushion is able to raise, lower, and can be adjusted forwards or backward depending on the height and preference of the paddler
This kayak has a stowaway space which is located behind the cockpit and can be used to store provisions and extra gear.
The Aspire 105 is molded out of high-density polyethylene.
For durability, this kayak has a replaceable skid plate on the keel
For additional storage, there is a Shock cord deck rigging on the bow and stern of this kayak
The plastic hinges which are used to seal the compartment hatch are made of brittle plastic.
The molded-in dashboard of this kayak consists of a water bottle holder which can hold a bottle upright or lay it down sideways.
This kayak does not have built-in paddle holders. Additionally, a spray skirt may be handy for limiting water entering the larger open cockpit.
This kayak has a cockpit-deployable TruTrak skeg system located at its underside which is extremely beneficial while encountering a crosswind.
Pungo 120
Pungo 120 pros and cons
Advantages
This kayak has great speed and stability and can be used by both beginners and professional paddlers.
Thanks to the paddler-informed design, this kayak is one of the best sit-inside recreational kayaks.
The Pungo 120 has enough storage space as well as a stern hatch and a very nice handy cockpit dashboard
This kayak has a rear bulkhead which prevents it from sinking if it ever swamps in deep water.
Disadvantages
Wilderness Systems Pungo 120 outfitting and accessories
There are so many things to love about the Wilderness Systems Pungo 120. Not only is it versatile, it has a lot of amazing features like its the comprehensive dashboard. Their dashboard is a removable console that is located at the front of the cockpit. It includes the following:
The Wilderness Systems 120 is very lightweight measuring about 14 ounces. It has a water-resistant battery of 12V and comes with two USB ports that paddlers can use to power their devices, fish finders, and other gadgets on the kayak.
Thanks to the adjustable deck bungees which are located on the bow and the stern, this kayak has enough space to store as much heat as you may need for your stay on the water. For additional storage, you can use specially designed matching mesh deck pouches. These are sold separately.
Wilderness Systems Aspire 105 vs Pungo 120
The Wilderness System Pungo 120 also gives room for customization. By adding some optional accessories, paddlers can personalize their Pungo 120 based on their preference. The paddler can choose among several RAM mounts to install on the dashboard.
For paddlers who enjoy taking selfies and prefer to keep their phone handy for navigation as well, the X-Grip Phone Mount/Base is recommended. Paddlers can also choose the Basic Track Ball with T-Bolt Base for vast options and mounts.
In terms of performance, the Aspire 105 is undeniably excellent on water. It has increased maneuverability and the drop-down skeg helps to avoid weather cocking. It also offers great tracking.
Conclusion
Whether you want to use Wilderness Systems Aspire 105 or Pungo 120, you will love the way they function.
The whole kayaking experience in these kayaks is very comfortable and almost feels like you are gliding in the water. With very few strokes, you can turn and move the kayaks in any direction of your choice.