If you're a boater or fisherman, you have likely spent some nights out in the sea or at least a few hours after the sun went down.
Whether you stayed out there to enjoy the serenity that comes with looking at the night skies from the sea, to fish, to party with friends or for some other reason, you possibly appreciate the importance of underwater boat lights.
That's why you're here, right?
Underwater boat lights are vital for every boat user/owner as they illuminate your nighttime activities, helping you cruise around or hit your target (especially when fishing) with ease.
Moreover, they make your boat look more attractive and modern.
Stay with us as we take a close look at the best underwater boat lights in the market.
My Top Pick
Jiawill Underwater Boat Lights
Performance and durability are the main advantages of the Jiawill CREE LED
Underwater Boat Lights, but you need to realize that these are available only in a single or dual color mode.
What is The Benefit of Using Underwater Boat Light Specially?
Sailing or fishing at night is one of the great outdoor activities, but for you to enjoy it, you got to some lighting.
Here is a summary of the advantages of having the best underwater led boat lights:
Increased safety – when swimming underwater, the lights will illuminate the space, helping you and your crew see exactly what you're diving into and letting you see danger as soon as it surfaces.
Enhanced aura – what could be more relaxing than spending a night in the sea surrounded by some colored lights? If you're having a night out with your family or friends, the lights can create the perfect ambiance for connecting and having fun.
Cost effectiveness – high-quality underwater boat lights can serve you for life, and isn't that a worthy investment? Definitely much better than using flashlights.
Stress-free sailing – getting around in the dark can be loaded with frustrations. You don't know whether you're going to hit something or damage your boat. Underwater boat lights turn it all around and make the navigation a lot better. They especially come in handy when parking your boat in the docks.
Enhances fishing – fish love lights and so you won't even have to struggle too much as they'll bring themselves to you.
With that aside, let's see what the finest underwater boat lights have to offer.
My Top 9 Best Underwater Boat Lights Tested
1. Lumitec SeaBlazeX Blue Light Output
Lumitec SeaBlazeX LED Underwater Light Blue 101142
Up to 4000 Lumens, 12 volt DC to 24 volt DC (10-30 vDC)
Marine grade bronze alloy housing
Available Colors: White, Blue, Green, white/blue, with strobe and cross fade modes
Dimmable, no controllers required
Transom mountable, small 1/2″ through hole
The Lumitec SeaBlazeX isn't one of the most popular underwater boat lights for nothing.
This light is truly amazing, and if you're looking to extend your boating evenings when the sun goes down, it will give you not only safety but also lots of fun.
One of the joys of installing this lighting device on your boat is the range of colors it provides. If you don't want the blue output light, you can go for the white, green, blue or white/blue lights.
That's not all; if you're having a party, then the cross fade and strobe modes will definitely set the mood.
The awesome aspect of the light is that it gives you up to 4000 lumens.
Lumens are the units used to measure light intensity or brightness, and with 4000 lumens, you have enough illumination to see what's going on in the water clearly.
If some members of your crew will be surfing as the boat moves, they will certainly benefit a lot from the bright light.
Also, the light will help you see objects like other boats clearly and avoid hitting them, and this can be very helpful especially when parking the boat.
Installing the lights is relatively easy; all you have to do is drill holes in the transom for the power cables and use screws to firmly set the lights in place.
And lastly, the Lumitec SeaBlazeX's housing is naval grade bronze, meaning it's well protected from damage and rust. In fact, you can use it for more than 5 decades without having to make a replacement.
Highlighted features:
Compatible with 12 or 24 volt direct current
Supplies up to 4000 lumens
Super sturdy bronze housing
Easy to mount
Good color palette from white to blue and green
2. Jiawill LED Underwater Boat Lights
Jiawill 60W LED Surface Mount Underwater Boat Lights 316L Stainless Steel with Internal Driver and…
The vibration and shock resistant underwater boat light has a 316 marine grade stainless steel housing with a shatterproof polycarbonate lens.
This boat light uses 6 pcs 10watt LEDs to produce white illumination or 12 pcs LEDs for red, green, or blue illumination,2853 lumens
Exclusive over temperature protection ensures the light can operate above without damage,no external driver within a wide 9-32V DC range,there are fewer connections and devices to fail and less…
Super lower profile (17mm) and smaller footprint,diameter of light body is only 94mm
Installation hardware is included for surface-mounting on a variety of transom types, or install on your boat's trim tab with a mounting bracket (sold separately).
Performance and durability are the main advantages of the Jiawill CREE LED Underwater Boat Lights, but you need to realize that these are available only in a single or dual color mode.
So, you can either choose to go for blue, green, blue and white or blue and green output.
These are LED lights, meaning the energy used to run is significantly low, and that's not all; they're 6 Cree (for the white lights), and 12 Cree (for the red, blue, and green lights), meaning the quality of the light is also pretty high.
The intensity of illumination provided by these lights is up to 2853 lumens, and this is pretty bright, thus enabling you to see the water clearly.
The brightness may not be as much as that of the Lumitec SeaBlazeX, but it is still very helpful and definitely great for the price.
Something else you're going to love about the Jiawill CREE LED is its robust nature.
You might already know that the sea is not very supportive when it comes to the durability of items but tell you what?
This light is built to withstand the hostile sea environment for over a decade.
The housing is incredibly tough stainless steel, and with the shatterproof polycarbonate lens, you're assured the lights are well protected. Vibration, shock, and rust cannot beat this piece of equipment.
Highlighted features:
6 and 12 Cree LED lights
2853 lumens
Marine grade stainless steel housing
Temperature protection
Comes with installation hardware
3. Jiawill 316L Underwater Drain Plug Light
Jiawill 316L Stainless Steel Underwater 1/2″ NPT 9 to 30V 27w Boat Drain Plug Light with Internal…
The vibration and shock resistant underwater drain plug light has a 316L marine grade stainless steel housing
3watts LED, 9 LED insides, total 27W super brightness
Self-contained circuitry with no external controllers required, The drain plug light operates within a wide 9-30V DC range
Drain plug lights has overheat protection , you can test the lights out of water
1/2'' NPT screw thread, waterproof IP68
Are you on a tight budget but in need of the best underwater led lights for boats?
You might find the Jiawill 316L Underwater Drain Plug Light quite fitting. This gadget is presently going for around 50 bucks, which is much cheaper than other LED lights.
This light might be cheap, but its quality is still high and beneficial for underwater lighting.
The device has 9 lamps inside, and with each lamp having 3 watts, that's a total of 27 watts, which is perfectly bright to enable you to see vividly.
And the Cree LED light isn't just bright; it's pretty high-grade as well.
When buying this gadget, you have a range of color options, including red, green, blue, white, and royal blue.
Aside from the great lighting, there are other splendid features, and the self contained circuitry is worth mentioning.
With this comes the ease of use, in that you don't have to use external controllers.
The light case is also worth noting. Made of stainless steel, it actively resists shock from vibration and impact, thus preserving the light for years on end.
This marine-grade case also provides the much-needed waterproofing.
The light is designed in such a way that it doesn't heat up even in the blazing summer sun. That's another protective feature that keeps your underwater light working properly and ensures longevity.
Highlighted features:
Temperature protection
Easy to mount
27 watts brightness
Inexpensive
Stainless steel case
4. AGPTEK IP68 Underwater Yacht light
There are two very important factors you need to bear in mind when looking to install underwater lighting on your watercraft.
First, the lights, which are electronic devices, will be submerged in the water for extended periods. Secondly, water is not very friendly to electronics.
What makes the AGPTEK IP68 so appropriate for underwater lighting is that they have a rigid housing that prevents water damage effectively.
This stainless steel housing isn't just good for waterproofing the lights; it's a great anti-corrosive as well.
So, even if the water has a high salt content, making it the ideal environment for rust formation, the lights will stay in good condition, well protected from rust.
Due to the toughness of the housing, your lights stay well protected, even if they suffer impact with something hard.
If you're looking for great lighting, this gadget will certainly be very helpful.
It offers you 120 to 140 lumens of illumination, and with 5W Cree lighting, the quality of the light is superb.
The light is composed of five 1W Cree lamps, which make up the 5W Cree.
The viewing angle is 180°, and that's obviously enough to help you see what is ahead or behind your boat depending on where the lights are installed.
Extreme temperature takes a toll on electronic lighting systems.
But with the AGPTEK IP68, that's not something to be worried about, thanks to the cooling effect provided by the aluminum housing as well as the titanium alloy plating.
Highlighted features:
Robust stainless steel housing
Extreme temperature protection
Waterproof
180° viewing angle
High-quality lighting
5. Amarine-made 180 LED Underwater Lights
Amarine Made Green 12v-24v 8W 180 LED 1000 Lumens IP68 LED Submersible Fishing Light Underwater…
The night fishing light is about 7" long by about 1 inch in diameter,you can plug it in to a 12-24V DC power outlet. Dropping it down you can see it 30+ feet under the boat. Can be used both for…
Green Light 12 Volt Submersible Deep Drop Underwater LED Fishing Lamp , IP 68 (5m underwater) , with battery clip and power plug.6 Sided LED Fishing Light (360 degree view); 180 SMD Super Bright LED…
8 watts,0.9 amp draw,1000 lumens brightness, ultra-low battery consumption (runs 8 X Longer than halogen);
50,000 Hours of continuous use; Replaceable Inner Globe; 7 inch length, easy to store no breakage;
Built-in lead weight; Heavy Duty 6M Power Cord with battery clips ; weight: 395g(light: 190g, wire: 205g)
The Amarine-made 180 LED Underwater Light is one of the cheapest yet most efficient underwater marine lights we've come across.
This little light looks small, and one might dismiss it thinking it's a useless device, but it's not.
First, the device is small, which means it is low profile and convenient to attach anywhere.
Again, even though it's super cheap (around 20 bucks at the moment), the light produces up to 1000 lumens, which is quite bright for a light of its size.
One of the most appealing things about this device is the fact that its installation is much easier than that of many other underwater boat lights.
After drilling the hold, you can just leave the light suspended there without having to secure the screws.
Because of its design, which has the LEDs facing all directions in a circle, the light illuminates at an angle of 360°. Combining that with the 1000 lumens brightness, you have the ability to see clearly and fish or sail more effectively.
Here's a tip for fishing – just place the light near a preset net and wait. The fish will get lured into the net, and you'll have a good catch without hassle.
Many people love to use this gadget as a dock light because of the 360° view plus the intense illumination provided. Moreover, the green color improves the aesthetic value of the docks at night.
Highlighted features:
6. TH Marine LED-51868-DP
Sale
T-H Marine Underwater Boat Lights – High-Intensity Surface Mount Waterproof Lighting – Use Above or…
SUPER BRIGHT LED's – broad spectrum flood lights include 6 high intensity LED's providing 180 lumens to illuminate your boat's surroundings
WATERPROOF – features a completely waterproof housing that is designed to be used above or below the water line
MANY MOUNTING OPTIONS – pleasing green lights can easily be installed on the transom, swim platform, interior, hull, trim tabs, cockpit, t-tops and more
INSTANT AMBIANCE – this affordable marine light can illuminate your boat's underwater surroundings, transform your interior, attract bait fish for night fishing, and give your boat a truly unique look
LONG LIFE – efficient underwater LED lights feature low amperage draw (130mA) and low heat output to last up to 100,000 hours
The TH Marine LED-51868-DP is yet another cool option for someone who needs a low cost yet high-quality marine underwater light.
Going for less than 20 bucks at the moment (note that prices vary with time), this is one of the most affordable lighting gadgets you can find.
The illumination from this device is 180 lumens in intensity, and while this can be great for underwater lighting at the docks, we don't really think it's very suitable for sailing.
But, you can still use it while sailing although for fishing rather than lighting and navigation.
The six green LEDs attract fish very well.
Easy installation is one of the joys owning this underwater light. You can either drill a little hole for the wiring or mount the gadget on the surface if you love hassle-free installation.
Again, the gadget is quite flexible as it can be used either above or below the waterline, on the trim tabs, swim steps, t-tops or even on the transom.
It'd make sense to think that a 20-dollar underwater light couldn't last very long but you'd be surprised to know how long-lasting the TH Marine LED-51868-DP is.
The device has a life of 100,000 working hours, thanks to its rugged design. This basically means you could use it for decades without any issues.
The light's housing provides protection from the water and as well as the salt, which are the biggest causes of rusting.
Highlighted features:
180 lumens
Installation hardware included
Can be mounted on the surface
Affordable
Long-lasting
7. Amarine Blue Cree LED Light
One thing's for sure – the Amarine Blue is a great choice for someone on a budget, but what drew us to this underwater light the most is the ease of installation.
If you find drilling inconvenient and are in need something that you can just surface mount, then this gadget could be just the thing you're looking for.
All that's needed to be done is connecting a 12 to 24-volt battery or power cable, and you're good to go.
12 to 24 volts isn't much power, meaning that the light is also good if you're trying to save on energy.
Sometimes you might need to take an underwater boat light from one vessel to another, but if the light is fixed with screws onto the vessel, then you'd have quite some work to do.
With the Amarine Blue, there's no drilling needed during mounting, and that makes it super easy for you to use the light on another boat.
Water damage is the biggest nightmare facing underwater lamps but tell you what?
This particular light isn't just any other waterproof device; its waterproof design is superior, and it even has an Ingress Protection (IP) rating as proof of that. It's rated IP68.
The housing used here is marine-grade bronze, denoting, therefore, that shock, high heat levels, and impact are problems that cannot affect the light; at least not for many years to come.
Highlighted features:
Surface-mountable with no need for drilling
120° view
Marine-grade bronze case
Waterproof
Durable
8. LemonBest 10W LED RGB
LemonBest 10W LED RGB Multi-Color Changing LED Underwater Light Water Resistant Garden Landscape…
Input Voltage: AC85-265V to DC 12V US Plug Adaptor; Output: 10W; Silver Aluminum; Arc-shaped tempered glass
90cm/ 35 inch Default Cable With 2 pin LED Male and female waterproof connector. Don not put it underwater directly, please use some sealant to cover the lens before using!
Ingress Protection Rating: IP67 (water resistant, advice to apply silicone sealant/ Lube Tube to the light's seal before put it in the water)
21 Key remote control; Customized Timing Setting: Customized Hours On/off Setting, Auto On/off in customized timing passed; Cycle Memory Function. Pls note that the color is not pure color, it's mixed…
Easy to install, plug to use; Suit for Fountain, pond, Pool, Home, Garden, Parks, Hotels decoration, Theaters, clubs, Dining- room, Lawn, Rockery etc; Light up the summer nights beautifully!
Would you love to operate you underwater light using a remote control? Well, the LemonBest 10W LED RGB can make this dream a reality for you.
The remote control has 21 keys, with which you can customize the light and adjust the light as you prefer, the hassle-free way.
One of the remote control's functions is adjusting the on/off timer. With this function, you can set the light to turn on or off automatically.
If for instance, you want to take a nap and want the lights to go off after you sleep, you just have to use the remote control to preset the lights to shut off automatically.
This light is ideal for you if you want to save some energy. It uses 12 volts DC, and the output is 10 watts.
The waterproof features of an underground lamp are of great importance as they determine whether or not the lamp is going to last.
Now, the LemonBest 10W LED RGB even has an IP rating (IP67), proving just how protected it is from the water.
The installation needed for this device is super easy, and the fact that the device comes with the regular US plug makes things easier for you.
Apart from that, you can either choose to mount the light horizontally or vertically. There's an adjustable stand on there, and you can use it to project the light in different angles.
This is a great underwater light, but the manufacturer needs to make a few improvements, especially increasing the remote control's range.
Highlighted features:
Remote control
A projection distance of up to 50 meters
50000 hours life
Adjustable stand for setting the light at different angles
2 years warranty
9. Shoreline Marine Underwater Light
Sale
If you're boating in a high-traffic area where snags are a concern, then you need a compact underwater boat light that's well out of the way.
A compact lighting device, like this one from Shoreline Marine, also comes in handy when you don't want to go through too much trouble during the installation.
It weighs around 5 ounces, which is obviously lightweight.
For a device its size, the Shoreline Marine Underwater Light is quite bright.
It gives off around 600 lumens of white light, which is enough to illuminate up to 50 meters and help you move around knowing exactly what's ahead of you.
Oh, by the way, we noted that their Amazon description says 108 lumens but the package says 600, which is the correct figure.
We really don't know why they'd write 108 lumens in the description, but it's perhaps just an error.
If you're going out at night to fish, the bright light provided by the gadget will most certainly be very helpful for attracting the fish.
This gadget is versatile when it comes to the installation. You can choose to mount it above or below the shoreline, and you can mount it with or without a drilling a hole.
Another amazing pro is that the filament doesn't burn out. Incandescent underwater lights burn out easily, but this one seems to have a high-quality filament that is built to last.
Highlighted features:
Lightweight and compact
Fine bright light – 600 lumens
High-quality filament that doesn't burn out
Stainless steel hardware
Long-lasting device
How to Choose the Best Underwater Boat Lights?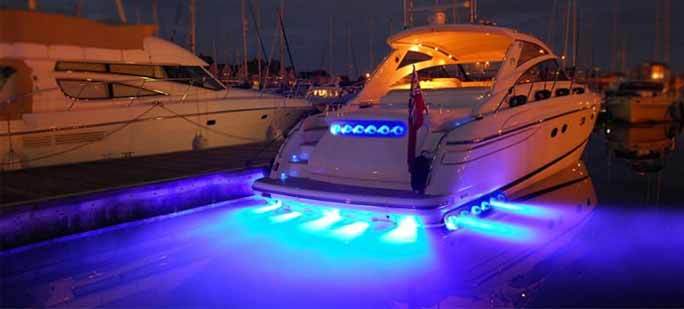 As mentioned before, underwater boat lights are extremely useful for night-time navigation, fishing, and fun.
However, like any other commodity, some models are good, and some are not so good. Here are the things you should look for to get the best underwater boat lights.
Best Underwater Boat Lights LED lights
Underwater boat lights can either be Light Emitting Lights (LEDs) or incandescent/fluorescent lights.
There are major advantages that come with LED lights, including lower energy consumption, lower temperatures, higher tolerance to vibration, and greater longevity than incandescent/fluorescent lights.
Furthermore, LEDs can use DC voltage.
Another major benefit of getting LED underwater lights is that unlike the fluorescent lamps, they don't emit mercury or other toxic chemicals.
Sure, LED underwater lights cost more, but they're a hundred times better than the fluorescent or incandescent lamps.
Ease of installation
The ease of installation is definitely a factor you want to consider.
While some underwater boat lights require the installation spot to the modified in various ways, others require you to drill only a small hole for the wiring and a few holes for the screws, and they're obviously easier to mount.
Some lights can be mounted on the drain plug, and hence don't require any drilling.
Another factor to think about is the mounting positions.
Look for an underwater boat light that's versatile, offering you a few mounting positions, or at least one you can mount on the transom, trim tab or drain plug, as these areas are easy to work with.
Brightness for Best Underwater Boat Lights
The brightness is normally expressed in terms of lumens; the more the lumens, the greater the illumination.
Around 600 lumens is enough for navigation.
But if you want excellent illumination for easy and safe movement plus fish attraction, go for a light that offers you great brightness; something like the 4000-lumen Lumitec LED, which is the first item on the review.
Beamwidth – Best Underwater Boat Lights
This refers to the angle of view of the light. Less than 90° is considered narrow while more than that is considered wide.
Try getting something with a wide beam width but keep note of the quality.
Single or multi color mode
Some lighting gadgets emit just one color while others emit more colors.
Consider your circumstances before buying a light.
Red is ideal for partying as it sort of adds life to the water. White works well in shallow waters with sandy bottoms.
Green is ideal for inland waterways, and it also works great in waters with lots of silt.
And if you're not sure what light best suits your boat, go for blue because it goes well with virtually any conditions.
Customer Reviews – Best Underwater Boat Lights
Before buying an underwater boat light online, read customer reviews of this particular product.
This will help you to know the overall quality and performance of the product.
Types of Underwater Boat Light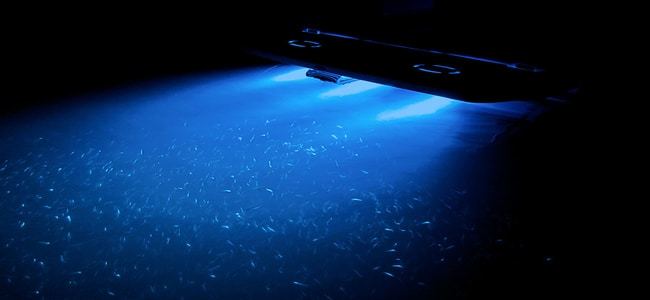 Basically, there are two types of underwater boat lights:
Incandescent lights
LED lights
Incandescent bulbs
With these, the wattage determines the intensity of the light. The light is produced by similar filaments that are heated equally, and to raise the brightness, the wattage has to be increased.
This need for wattage increment is what leads to the generation of heat, and this, in turn, causes wastage of energy.
The equal production of light around the lamp is also a cause of energy loss.
Apart from the energy inefficiency, incandescent lamps are also notorious for premature damage.
The filament normally burns out, and the bulb has to be replaced. In short, they're not very durable.
Pros:
Produce beautiful warm light
Cheap
Cons:
Waste lots of energy, leading to high energy costs
They burn up easily
Short lifespan
Sensitive to water
Fragile
LED lighting as Best Underwater Boat Lights
We're not going to beat around the bush – LED lights are the best for underwater lighting due to all the benefits they offer.
For starters, the lights burn cooler, and that's due to the fact that they produce minimal amounts of heat during the conversion of electric energy to light.
For that reason, LED lights are more durable and can have up to 100,000 working hours while incandescent bulbs have around 1000.
Having no filament also means the lifespan is greater as it's the filament that burns out causing bulb damage most of the time.
Another advantage is that they're not fragile.
The most important benefit is that LEDs are energy-efficient, attracting far less costs than incandescent bulbs.
Pros:
Great lifespan
Not fragile
Energy-efficient
Not as water-sensitive as incandescent lights
Cons:
More expensive than incandescent bulbs
How to Take Care of Your Underwater Boat Light for Longevity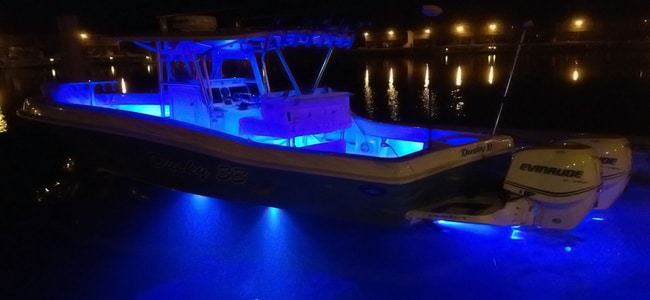 Even if you're using LED lights, which are more durable and have a body that is resistant to corrosion, impact and other issues, you'll still lose your lights if you don't take care of them.
The most important question to ask is – do you keep your boat in the water or trailered most of the time? Because if the boat stays in the water for extended periods, then the lights will need greater maintenance.
Again, are the lights affixed to the boat or are they devices that you mount and remove with ease? Removable lights are obviously easier to maintain.
Here are the various maintenance routines:
Prevent corrosion
Water, especially saltwater, is the perfect environment for corrosion, and the best way to ensure your lights are well protected is to get underwater boat lights with a stainless steel or marine-grade bronze in the first place.
If you're going to fix the lights permanently to the boat, consider using an orbital sander to remove the paint from the spots where you'll install the lights.
Just sand it around smoothly and once you've installed the light, apply a paint that is compatible with the housing of the lights.
That way, you'll have prevented the metal housing from reacting with the paint and getting corroded.
Every time you remove the boat from the water, be sure to clean the boat lights with fresh water, mild detergent, and a soft towel.
If the lights' housings aren't stainless steel or marine-grade bronze, consider applying an anti-corrosion coat on them to safeguard them against rust.
Don't run them out of the water
It sure feels pretty good to hold the lights up at the back of the boat, but there's something you need to realize – underwater lights are built with the idea that the water will help cool them down.
Therefore, running the underwater boat light out of the water will eventually lead to temperature damage, and since the act voids the warranty, you'll just have to buy another light.
If you have to run the underwater boat lights out the water, make sure that the duration doesn't exceed two minutes.
Don't clean them using abrasives
If mold has accumulated on the underwater lights, you might be tempted to use a hard-bristle brush or powerful detergent to remove it, but this will only damage the lights.
Ensure the materials you're using to clean the underwater boat lights are gentle, like a microfiber towel and mild detergent.
Top Rated Best Underwater Boat Lights Brands on The Market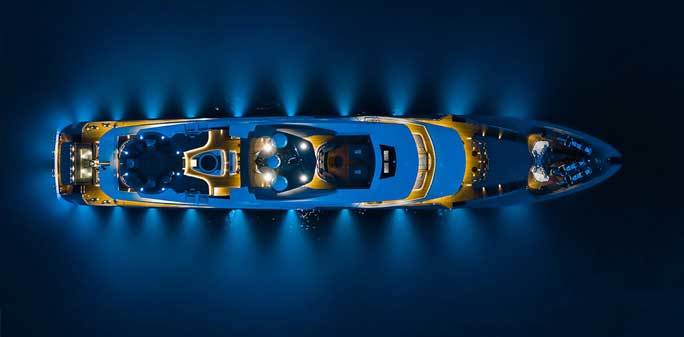 Lumitec – Best Underwater Boat Lights
Lumitec was founded back in 2007 as a firm dedicated to the utilization of new technologies to provide better lighting in terms of output and efficiency.
Today, the brand is known for the unmatched quality and performance of its lighting gadgets and the reliability of its support team.
And in fact, it's been named in the Inc. Magazine's list of the 500 Fastest Growing Companies.
The company has been awarded for being the fastest growing supplier and having the sincere customer support, and we're convinced that anyone would be happy to be their customer.
Jiawill for Best Underwater Boat Lights
Jiawill is a leading LED lighting systems brand that is committed to offering high-grade LED lights with high energy efficiency.
The brand designs and manufactures LED lights for a variety of applications including vehicles and ships and one unique thing about their products is the rugged design and the potential to last long.
On average Jiawill lighting systems have a lifespan of 50000 working hours, and again, the light output is not only consistent but also intense.
Amarine Store
Amarine Store is a US brand that mostly retails lighting systems on the internet.
This is one of the most trusted and loved brands online, and that can be attributed to the quality of not just their products but also the excellent customer support.
If you're looking to have a great shopping experience and have the peace of mind of knowing that your supplier is reliable and will be there to offer you assistance, try buying from this brand.
T-H Marine (Best Underwater Boat Lights)
T-H Marine has been in business since the 1970s as a family-owned company.
The family that owns this brand is into fishing, and the workers there are well versed in matters to do with fishing and boating.
So, you can be sure they understand the issues that boaters face in the sea, and that they've utilized their boating knowledge to come up with reliable lighting systems.
Apart from their high-quality underwater boat lights, this US-based brand makes and sells other boating accessories including outboard jack plates, battery trays, pontoon parts, and throttles.
Shoreline Marine
Shoreline Marine is a Brunswick-based company that's been supplying boating accessories for over two decades now.
The firm specializes in a wide range of boat parts and even sells whole boats to the retailers and the end consumers.
With their roots grounded in boat sales, the brand has the experience to not only offer you great underwater boat lights but also offer them at competitive rates.
It's also worth mentioning that their customer service is awesome.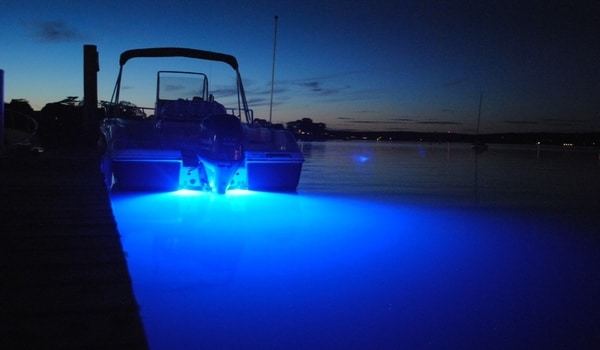 Underwater Boat Lights FAQ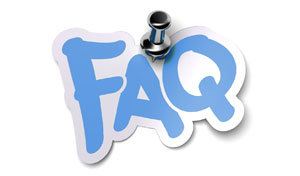 Q1. What color is the best for underwater boat lights?
The best color will depend on the conditions you're in as well as your objective. If you're in shallow waters, then white color might be good one.
If you're in an inland waterway or the water you're in has lots of silt, consider using green underwater boat lights
Red is most appropriate for creating a party mood while blue suits virtually any conditions.
Q2. Can I attract or repel fish with the best underwater boat lights?
LED lights have been showed to attract fish, so installing some would be great for fishing. It's just like introducing some bait.
Q3. What color will penetrate the water the best?
The degree of each color's penetration depends on its wavelength. The shorter the color's wavelength, the deeper the penetration.
Blue lights have one of the shortest wavelengths, thus penetrating deeper, while red underwater lights have a longer wavelength, hence getting absorbed at shallow depths.
Q4. Do underwater boat lights work out of the water?
Yes, they do, but they're not meant to and running them out of the water will only damage them.
Underwater boat lights are created with the impression that the water will help cool them, so if you take them out of the water, there'll be no way of cooling, and therefore, the heat will damage them.
Q5. Do I have to get a professional to install my underwater boat lights?
You can have a professional do it for you, but if you're DIYer, then you can install the underwater boat lights yourself.
And after all, the installation is not that difficult.
Most of the time, all that's needed is to drill holes for the wiring and the screws and to hook up the wires to a power source. The whole job can take only an hour or less.
Q6. How can I change the color if I am using a multi-color lighting system?
Some underwater boat lights can be preset to cross fade at particular intervals, but you can also turn the lights off and on using the switch to change the color.
Q7. How do I clean the lights?
For starters, you should never use abrasive pads or harsh cleaning agents as these can easily damage the lights.
Try using a microfiber towel and some fresh water and mild detergent.
Q8. Which one is better for underwater lights – LEDs or Incandescent bulbs?
LED lights are obviously much better as they are energy-efficient, more durable, and more tolerant of water than incandescent bulbs.
Top Underwater Boat Lights My Final Thoughts
We've come to the end of our post, and we hope that we've helped you get the best underwater boat lights or at least made you aware of the factors to consider.
While you can get an economy light going for even less than 20 bucks, it's always good to bear in mind the longevity of the lamp and to realize that quality products often require you to dig deeper into your pockets.
If your budget allows it, go for the Lumitec SeaBlazeX (in the review above) as it's well protected from degradation and moreover, it gives off a nice, brilliant light.